USA ARMY-auto 4X4, Driezitter, MP3-speler met USB / SD-ingang, All wheel suspensie, LED-verlichting, opklapbare voorruit, 12V14AH-batterij, EVA-wielen, kunstleren stoelen, 2,4 GHz-afstandsbediening, 4 x 4 aandrijving
USA ARMY 4X4
Nieuw: Driezitter!
Geschikt voor drie kinderen

EXTRA Draagvermogen: tot 60 kg

Rijden: 4 x Motor 12V 45W

Batterij: 1 x 12V / 14Ah

Vouwbare voorruit

USB / SD ingang

Drie lederen zetels
Normale prijs
€ 569,00
Speciale prijs
€ 449,00
Levering: 4 - 5 Werkdagen
Klik op de foto om uit te breiden

You can return the goods within 14 days
We return the money within 1 day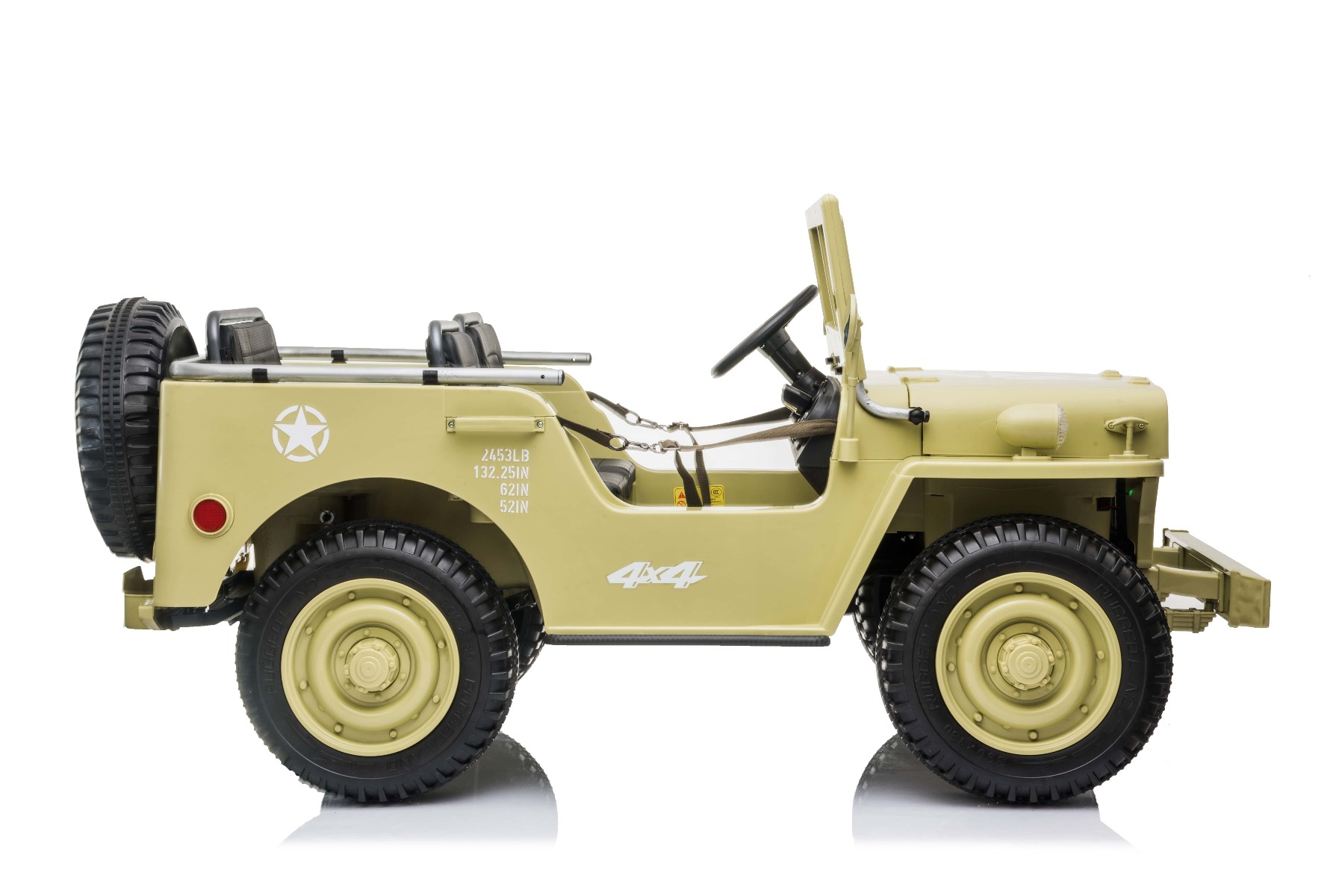 Elektrische speelgoedauto USA ARMY
Uniek driezittermodel met 4x4 aandrijving
Nieuw: Het model is uitgerust met drie zitplaatsen en een opklapbare voorruit!
De USA ARMY 4X4 speelgoedauto is een uniek model. Het is uitgerust met een MP3-speler voor het afspelen van muziek met USB / SD ingang. Het heeft 4 motoren met vierwielaandrijving, waardoor het een echte 4x4-auto is. Dit model is ook uitgerust met een 12V / 14Ah batterij, LED-verlichting en is precies en gedetailleerd gemaakt van hoogwaardige materialen.
Het USA ARMY-model heeft ook een derde zitplaats en is daarmee het echte en eerste driezitsmodel in ons assortiment waar zwaar gereedschap aan de carrosserie van de auto wordt bevestigd!
4X4-aandrijving - De aandrijving wordt verzorgd door vier 45W-motoren op elk wiel, waardoor de auto ook geschikt is voor zacht terrein. De auto is volledig geveerd op de voor- en achteras.
Mogelijkheid ook voor kleinere kinderen - dankzij de instelling van een lagere snelheid en een vlotte start !!!

Soft Start/Smooth acceleraties - Wanneer het gaspedaal wordt ingedrukt, begint de auto te draaien en wordt de acceleratie elektronisch geregeld, zodat deze soepel verloopt dankzij de geïntegreerde acceleratie.

Na het starten imiteert het model het startgeluid, de koplampen en achterlichten lichten op. Onboard instrumenten, geluidseffecten zoals claxon, motorstart, rijgeluid, liedjes, melodieën, MP3-speler met USB-ingang en SD - altijd beschikbaar voor het plezier. - Het volume van alle geluidseffecten kan volledig worden geregeld door de MP3-speler.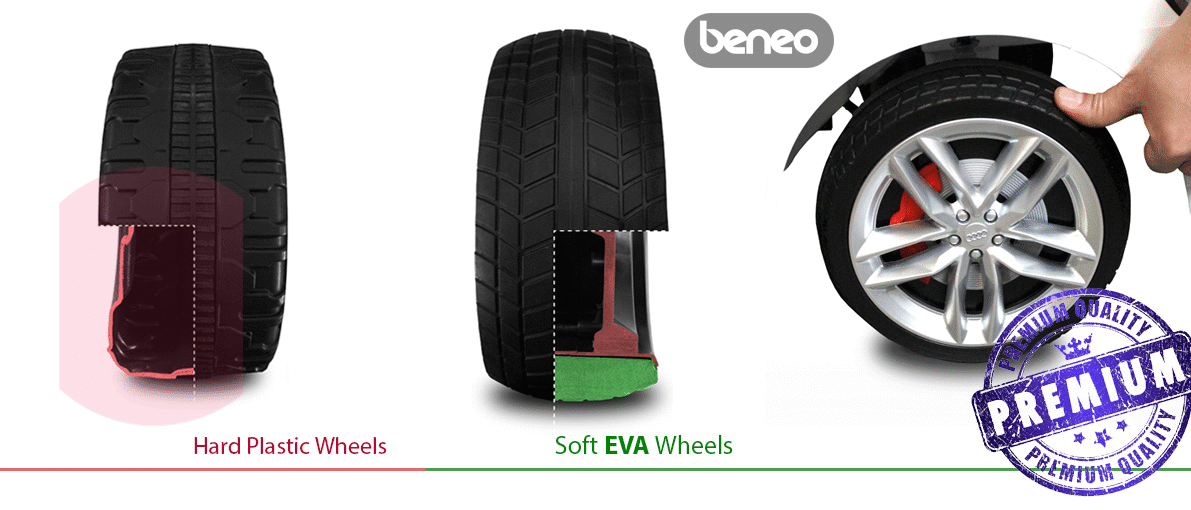 Zachte EVA-polymeer wielen - zorgen voor een rustige rit en zijn bestand tegen scheuren!
Afstandsbediening - 2,4 GHz Bluetooth-afstandsbediening gekoppeld aan een specifieke auto met superieure autobediening en instelbare lage, medium, hoge snelheid en noodrem.


De veiligheidsgordel is verstelbaar op het zitje voor meer veiligheid, en de brede opening van de deur maakt het gemakkelijk om in en uit de auto te stappen.
Eigenschappen

4x4

Eva Wheels

LED lichten

MP3 speler

USB poort

SD-kaart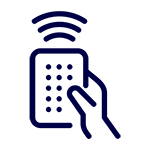 Afstandsbediening

Multifunctioneel stuur

Veiligheidsriemen
Bijzondere functies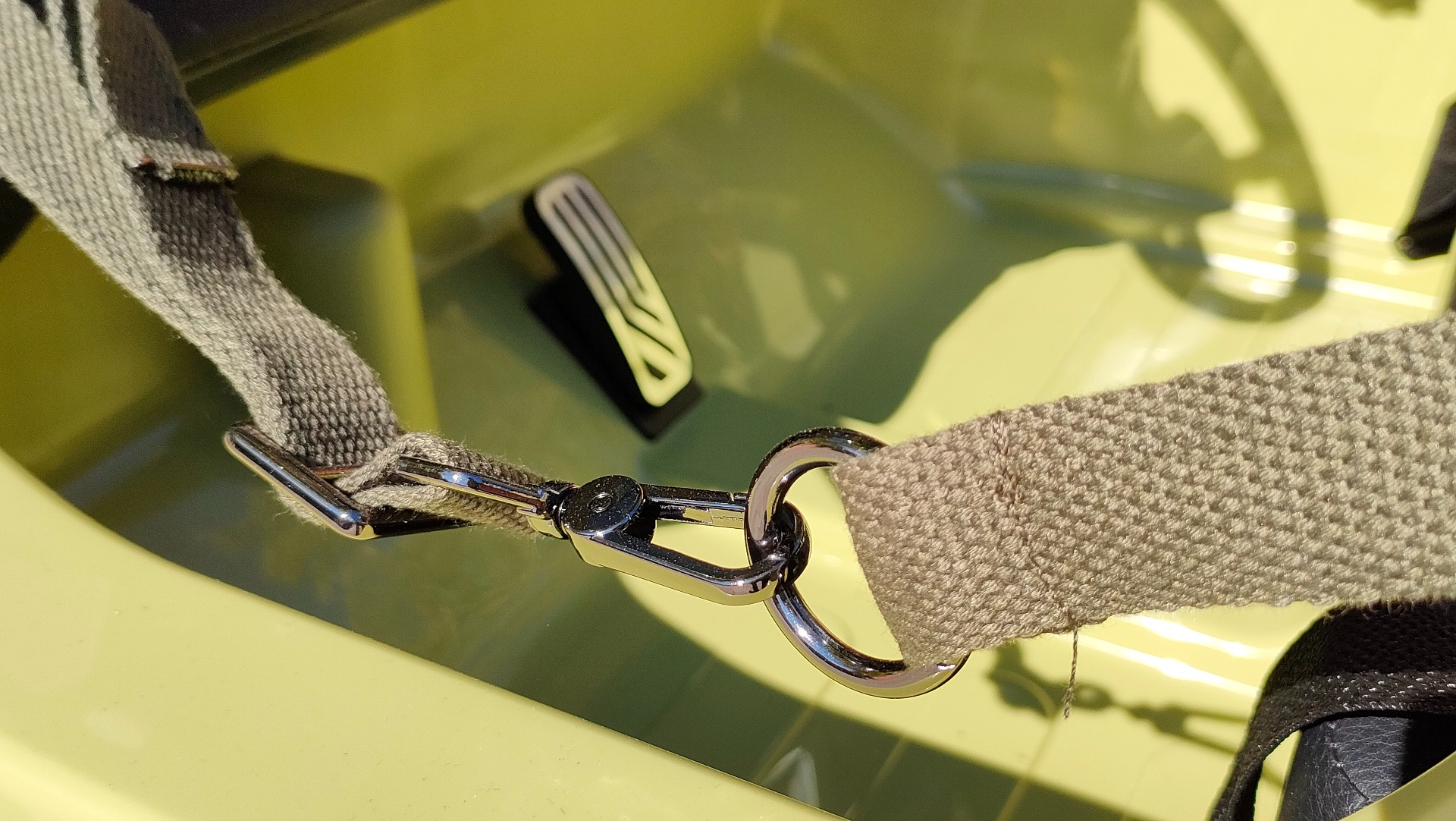 Veiligheidsgordels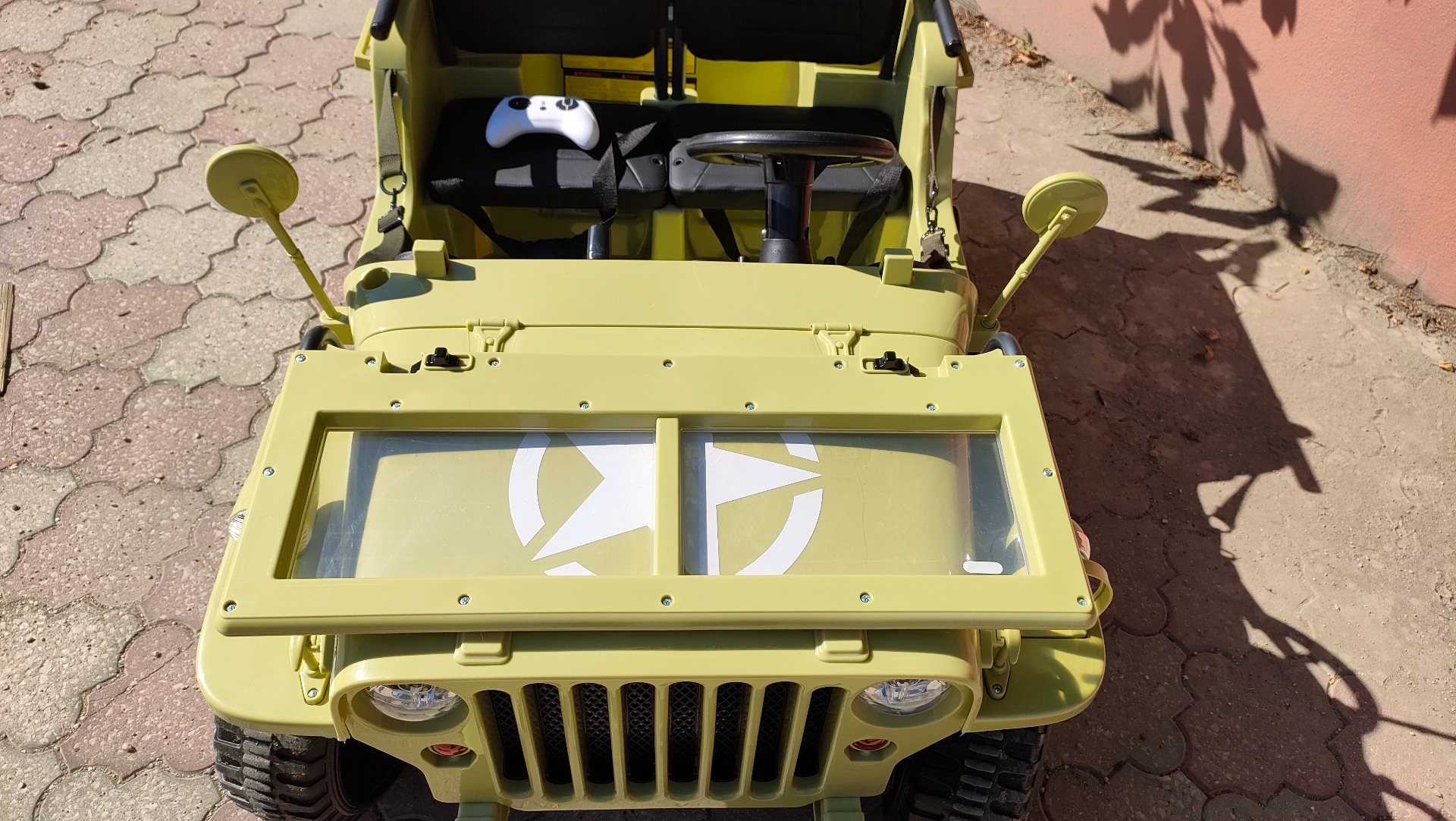 Opvouwbare voorruit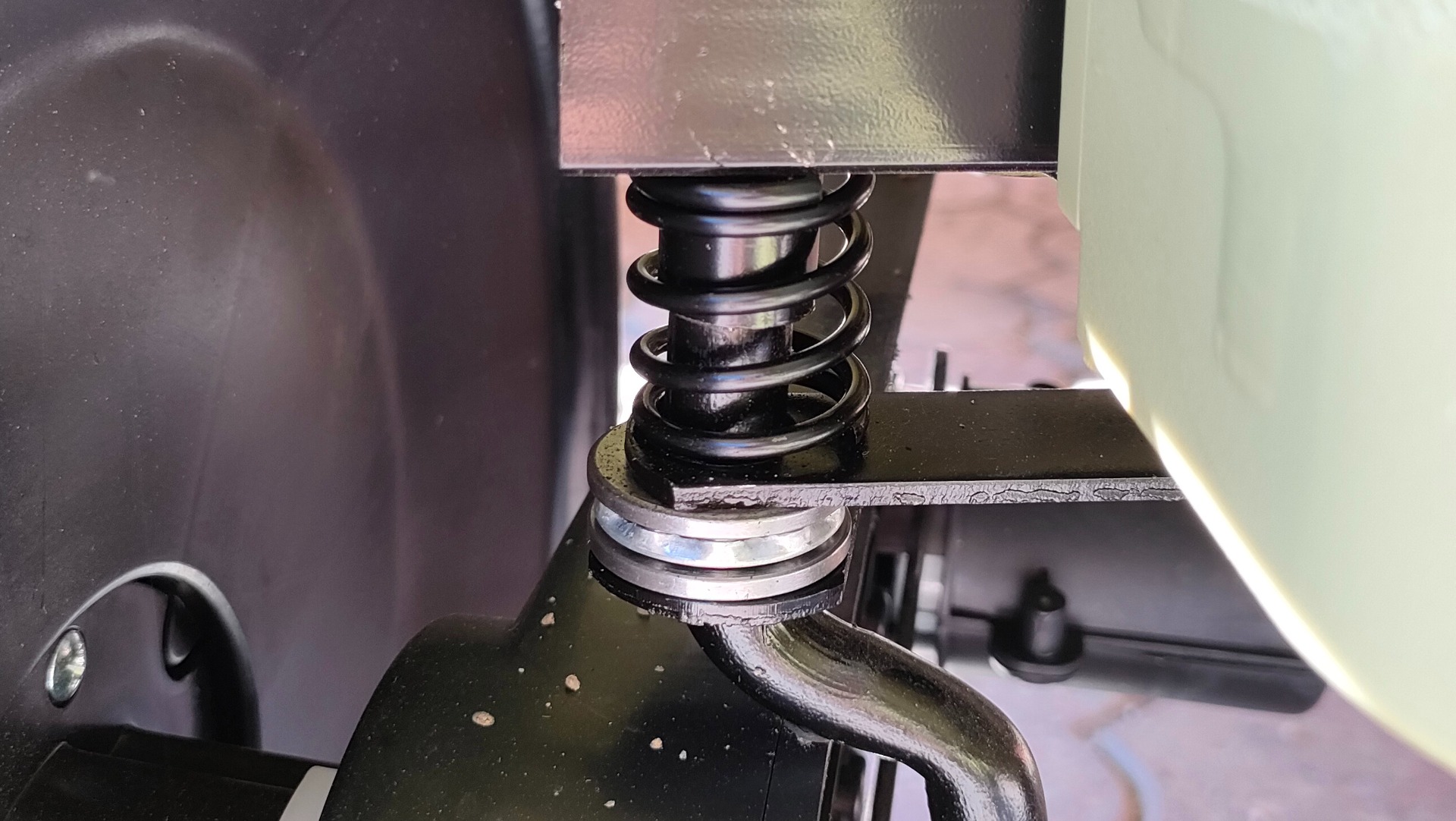 Onafhankelijke ophanging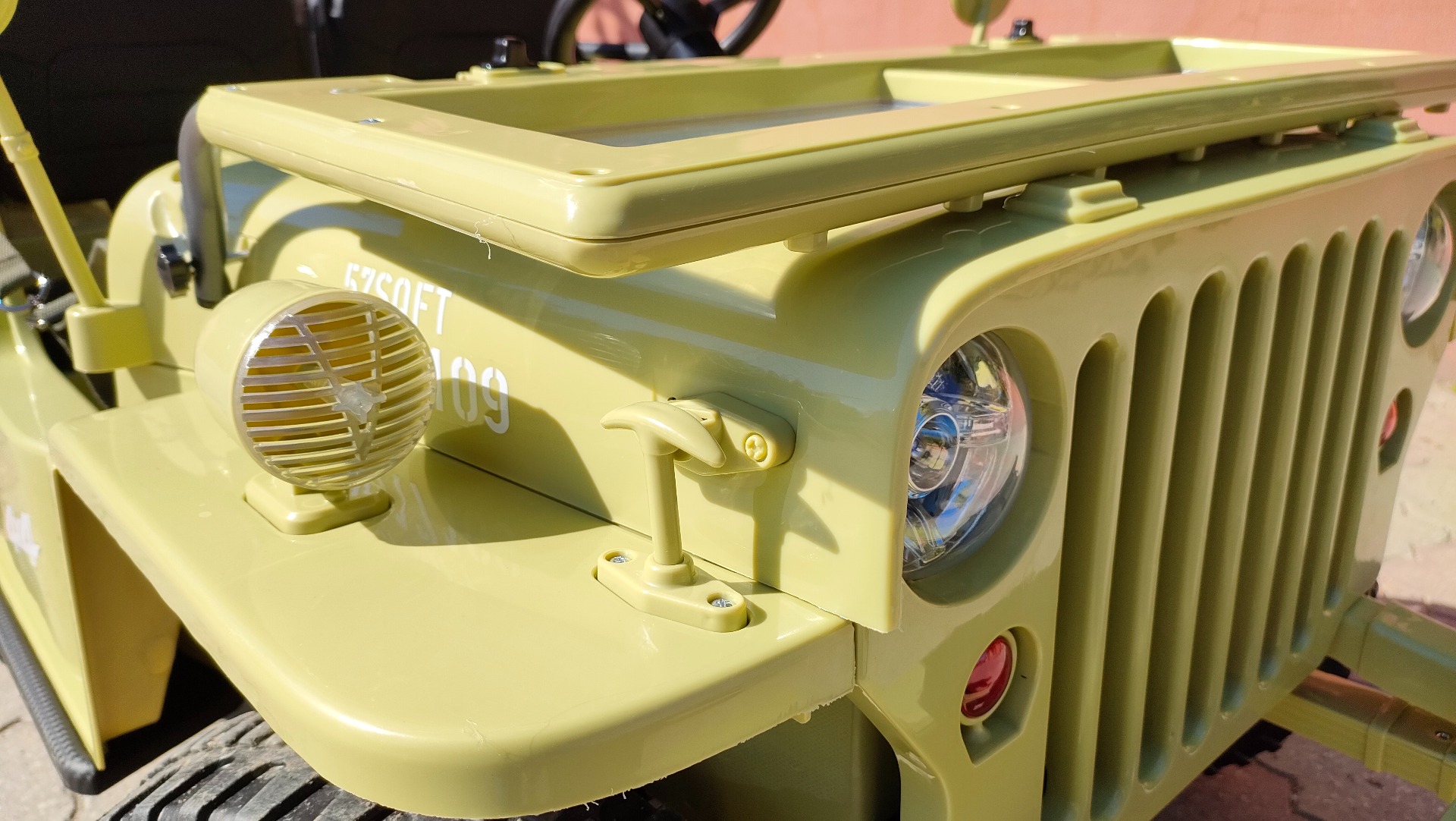 Clips for hood opening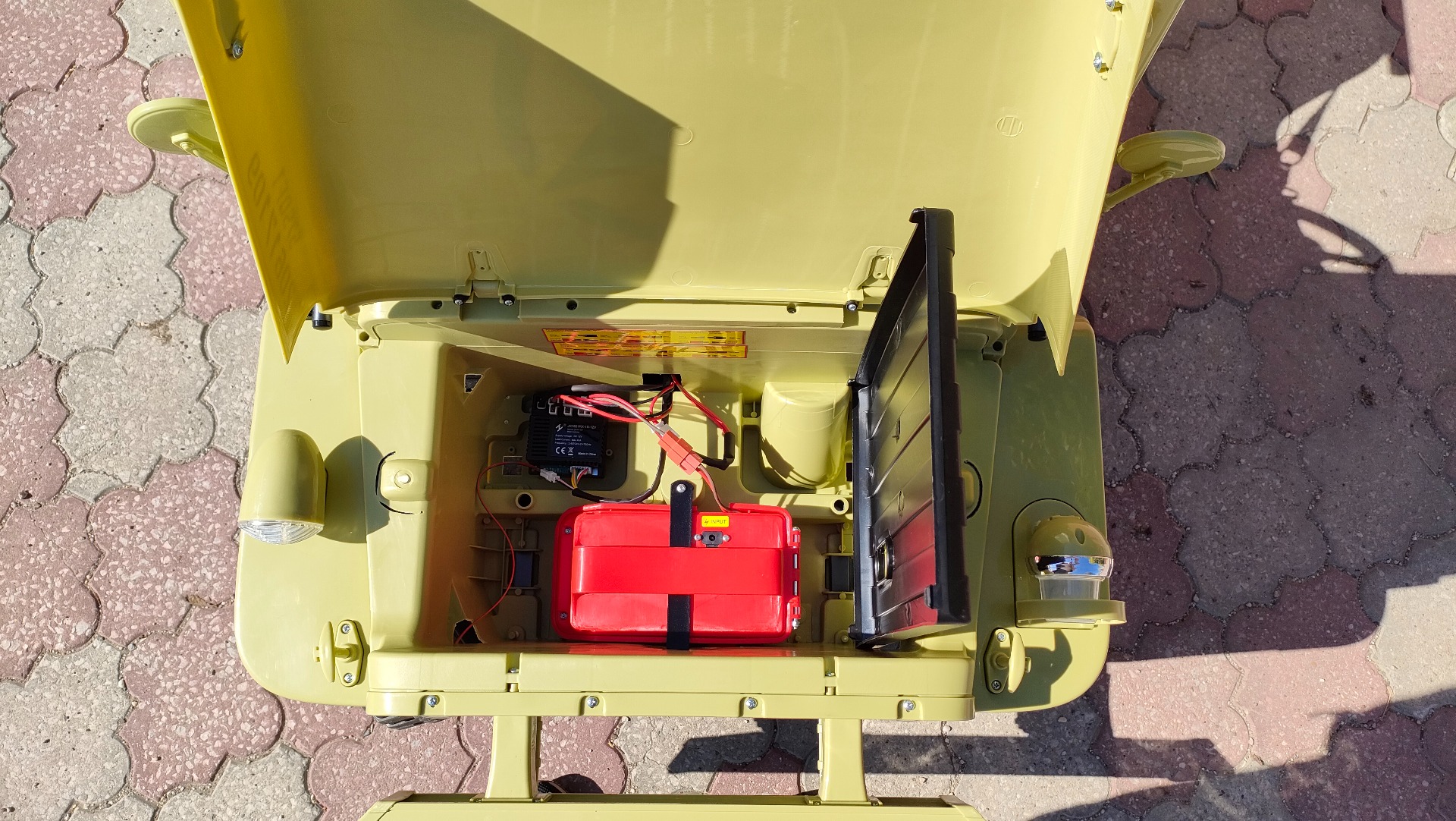 Removable battery box with charging port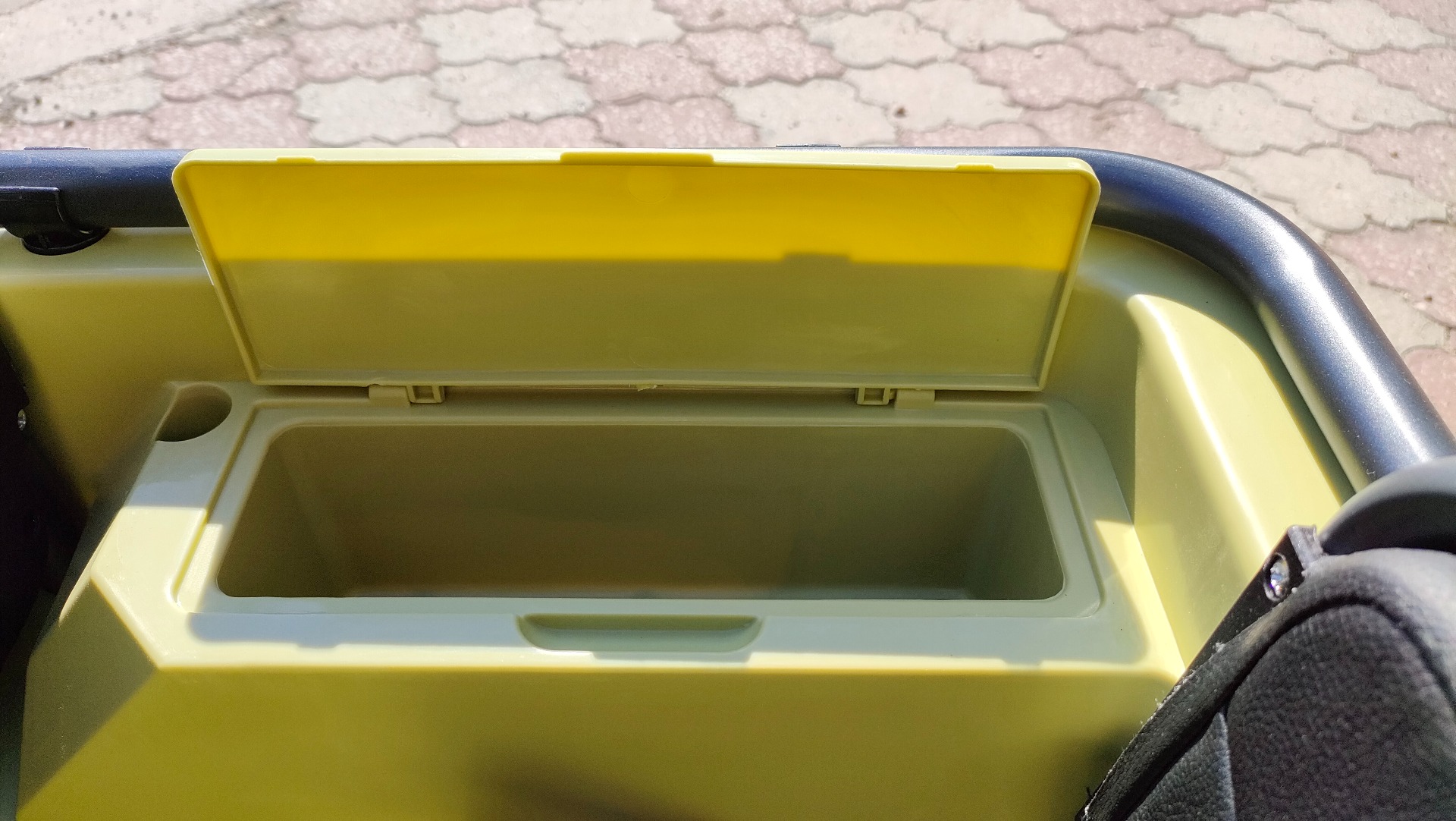 Rear storage side spaces
Technische specificaties/producten Afmetingen
Afmetingen: 140 x 78 x 52 cm
Drie kunstleren stoelen
4x4-aandrijving
Geschikt voor drie kinderen
Gedetailleerde training
Soepele start - geen scheuren bij het toevoegen van het gaspedaal
Zachte EVA-wielen
2.4 GHz-afstandsbediening met koppeling aan een specifieke auto - geen signaalstoring meer van andere auto's
REMOTE CONTROLERENCY BRAKE - schakelt alle rijfuncties van de auto uit. Door opnieuw op de noodrem te drukken worden de rijfuncties geactiveerd. Deze innovatie zorgt voor maximale ouderlijke controle over het voertuig en veilig gebruik.
Mogelijkheid om de rijsnelheid in te stellen op de afstandsbediening - met de vernieuwde afstandsbediening kunnen de ouders de rijsnelheid zelfs tijdens het rijden instellen.
Snelheidsindicator op de afstandsbediening instellen
Vertaald met www.DeepL.com/Translator (gratis versie)
LED-lichten
Ophangassen
Inklapbare voorruit
Veiligheidsgordels en deurriemen
Gewicht: 33 kg
EXTRA Draagvermogen: tot 60 kg, getest draagvermogen: 70 kg
Snelheid: 3 - 6 km/u.
Rijden: 4 x Motor 12V 45W
Batterij: 1 x 12V / 14Ah
Adapter: van 220V naar 12V / 1000mA.
Opladen: 8 tot 12 uur
Rijtijd: tot 2 uur, afhankelijk van gewicht en terrein
Leeftijdscategorie: 3 tot 8 jaar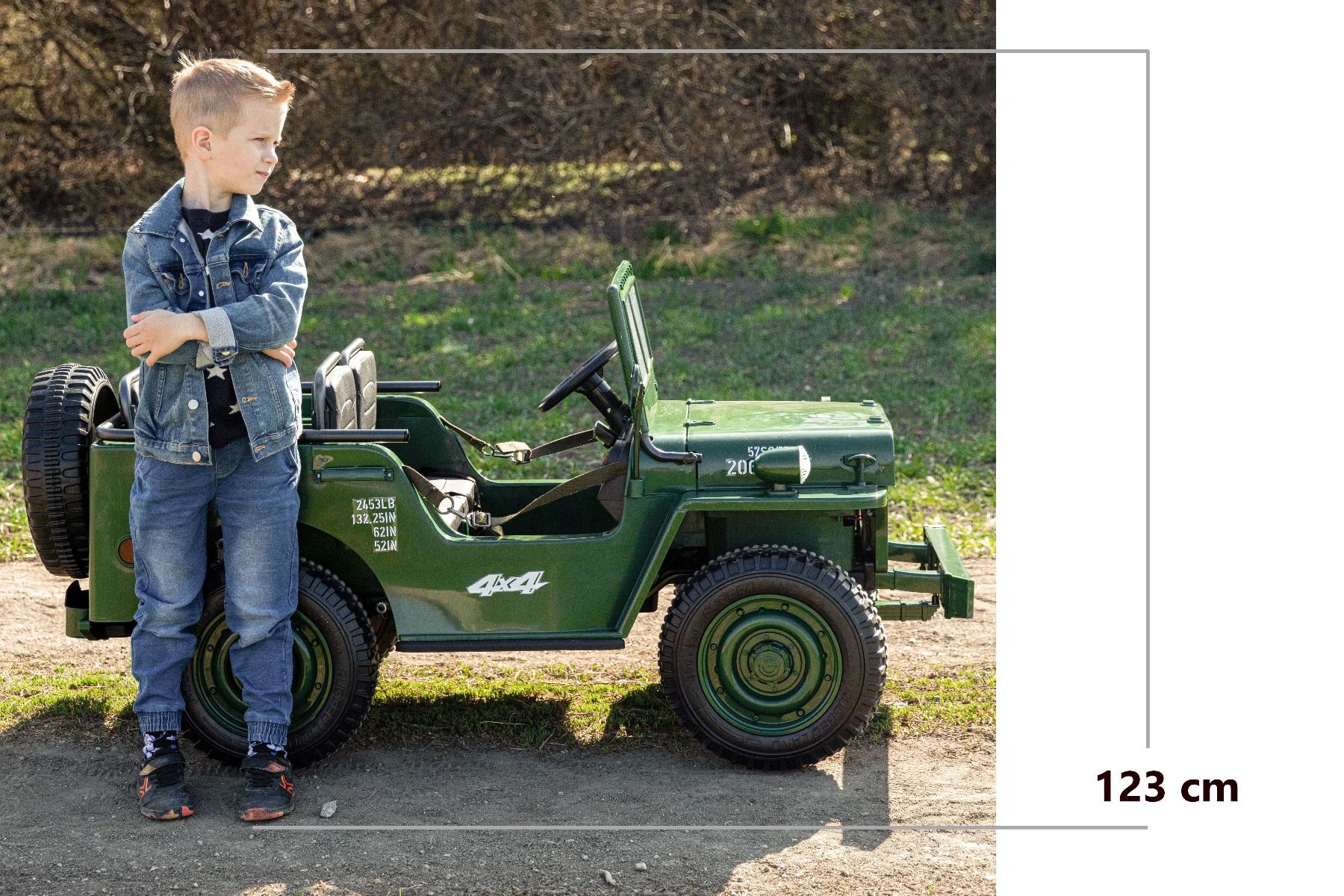 Meer informatie

| | |
| --- | --- |
| Leeftijd | 3+ |
| Gewicht | 33.0000 |
| Instruction manual | Yes |
| Dimensions - height (cm) | 52 |
| Dimensions - width (cm) | 78 |
| Dimensions - lenght (cm) | 140 |
| Box size - height (cm) | 49 |
| Box size - width (cm) | 82 |
| Box size - lenght (cm) | 144 |
| Seat type | kunstleer |
| Number of seats | 3 |
| Wheel type | Soft EVA |
| Power (W) | 4 X 45W |
| Voltmeter | Yes |
| Sounds and audio | MP3 Player With USB/SD |
| Battery type | 12V/14AH |
| Max. load (kg) | 60 |
| Max. tested load (kg) | 70 |
| Remote control | 2,4 Ghz Bluetooth |
| Bodywork finish | Plastic |
| Usable trunk | Yes |
| Suspensions | Yes |
| Opening doors | Yes |
| Smooth start | Yes |
| Headlights | Yes |
| Dashlights | Yes |
| Backlights | Yes |
Noot: Technische specificaties kunnen zonder voorafgaande kennisgeving worden gewijzigd. De afbeeldingen dienen uitsluitend ter referentie.