Soms bellen klanten ons vanwege een accuprobleem in hun elektrische auto. Vooral in het voorjaar als het buiten warmer is en de kinderen hun favoriete auto weer kunnen gebruiken. Tenslotte kunt u de auto uit de garage of uit de kelder halen en genieten, maar de auto start niet. Om u tijd te besparen en soortgelijke situaties te voorkomen, hebben we een aantal basisfeiten opgeschreven over hoe u de accu's moet verzorgen. Zoals sommigen zeggen, wat je geeft, is wat je krijgt - en het is ook vergelijkbaar met het verzorgen van de batterijen.
Wat zijn SLA-batterijen?
SLA (Sealed-Lead-Acid) batterijen zijn onderhoudsvrije, verzegelde, gelbatterijen. Het bevatte elektrolyt is niet in vloeibare toestand en kan daarom in elke positie worden gebruikt. Hun voordeel is de eenvoudige bediening, het onderhoud en de lange levensduur. Een dergelijke accu creëert geen gevaarlijk afval en er is geen risico op zuurvervuiling zoals bij andere accu's.

Opladen van de SLA-batterijen
Gebruik niets anders dan de originele lader. Deze laders zijn volledig automatisch en controleren het laadproces. De oplaadtijd is ongeveer 6 - 8 uur voor 100% ontlading, maar we raden niet aan om uw batterij volledig te ontladen. Laad de auto op na elk gebruik, of minstens één keer per maand, tijdens de maanden dat de auto niet wordt gebruikt! Het is vergelijkbaar met uw persoonlijke auto - u laat hem ook niet enkele maanden staan zonder hem te starten. De regel is dat hoe minder de batterij wordt ontladen voor het laden, hoe meer cycli (laden en ontladen) er kunnen worden bereikt.
Standaard laadcycli voor SLA-accu's:
⦁ Met 50% ontlading van de accu worden tot 600 laad- en ontlaadcycli bereikt.
⦁ bij 100% ontlading is het ongeveer 300 cycli
⦁ bij 30% ontlading, het is tot 1400 cycli.
Deze parameters worden bereikt onder ideale omstandigheden zoals omgevingstemperatuur (20-25 °C), ideale luchtvochtigheid en correcte oplading.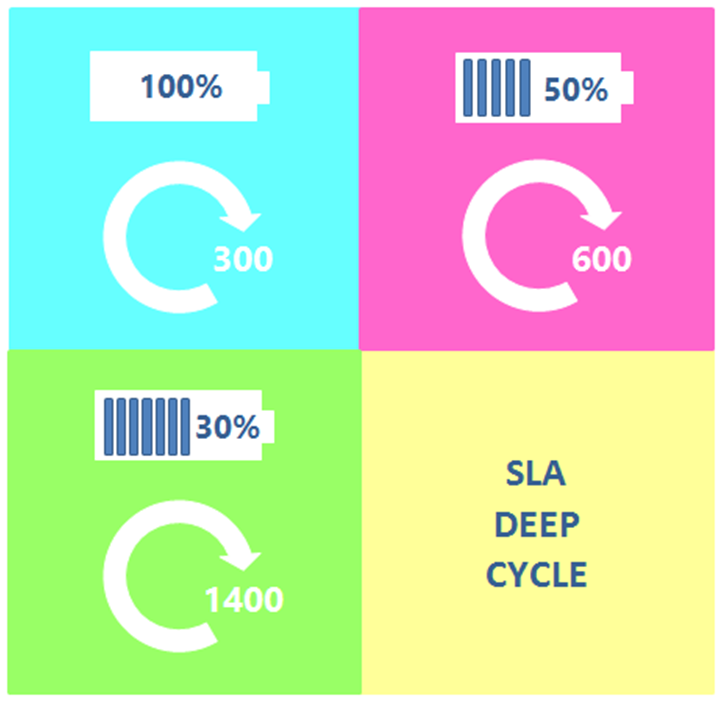 Opslag
Laat de elektrische auto niet buiten staan, onbeschermd tegen regen en sneeuw. Vooral in de wintermaanden. Bewaar de accu volledig opgeladen. Bij het opslaan van de accu ontlaadt deze zich ca. 3% / maand zodat het goed is om de auto een keer per maand op te laden voor langdurige opslag. De ontladen accu bevriest bij -1°C, opgeladen bij -15°C.
Tot slot willen we de basisregels samenvatten om de batterijen in de best mogelijke conditie te houden en hun potentieel zo goed mogelijk te benutten.
1.Laad de accu één keer per maand op, vooral in de wintermaanden!
2.Wij raden u aan de accu na elk gebruik op te laden! Dit verlengt de levensduur van de accu in uw elektrische auto.
3.Gebruik geen andere lader dan het origineel dat bij uw elektrische auto is geleverd.
4. Bewaar een volledig opgeladen batterij. Het zal meer weerstand bieden!